Murphy Peoples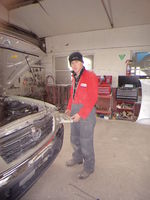 Murphy has finished his apprenticeship as a Trades person for Garry Milne Panelbeating.
Murphy works on all crash repairs Rust and Plastic Welding Jobs and Loves Hilux's
He likes working on "several" cars he owns and enjoys seeing the finished cars he has worked on. In his spare time, Murphy enjoys spending time with his partner and he is a new member of the local RSA.
He drives a LN106 Hilux.